One of Australia's top holiday spots is the Gold Coast, home of Surfer's Paradise. Here you will find some of the world's prettiest beaches and most entertaining nightlife. The Gold Coast is packed full of so many attractions that it will take some time to experience. So we've put together 5 hotels that we will help you in finding accommodation.

1. Azzura Greens Resort Hotel Gold Coast
Activa Drive Hope Island 4212 QLD
Gold Coast, Australia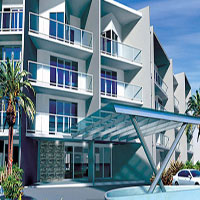 Azzura Greens is a 5 start luxury resort offering top notch service with its professional staff and its world class facilities that will satisfy all of your needs. The resort has 159 spacious apartments that both classy and elegant in design. Guests have the opportunity to pick between a one or two bedroom deluxe or a 2 bedroom executive apartment, each coming with a balcony and modern furnishings. An 18-hole championship golf course and a world class tennis centre, both managed by a team of international professional, are located right next to the resort. If you are looking to relax and get away from your daily-life, you will not be disappointed with Azzura Greens Resort.


2. Mantra Legends Hotel Gold Coast
Surfers Paradise, QLD 4217
Gold Coast, Australia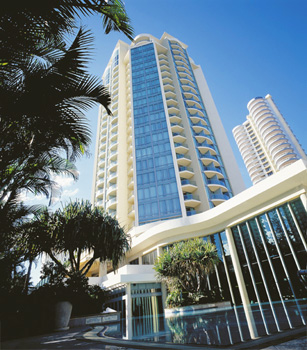 Australia's Gold Coast is one of the world best places to vacation and this 4 start hotel is ready to accommodate you whenever you decide to visit. The Legends hotel is situated right in the middle of Surfers Paradise and it has over 400 luxury rooms and suites with private balconies available. The hotel offers guests amazing views of the ocean and the city. It is a short distance away from all of Surfers Paradise's world renowned beaches, entertaining night-life, shopping centre, and restaurants. The Legends Hotel is situated in the prefect position to combine business with entertainment.
3. Vibe Hotel Gold Coast
42 Ferny Avenue Surfers Paradise QLD 4217
Gold Coast, Australia

You will not find a place that is closer to the heart of all that Surfers Paradise has to offer. From world famous beaches, great surfing, exciting nightlife, and an ideal climate, the Vibe Hotel is the perfect place to stay in paradise. Next to the Hotel, you will find the Titanium Bar where you can have some dinner or mingle over a drink. It is ideally situated on next to the Nerang River and offers breathtaking views of the city and the coast. If you want to have the most convenient location during your stay, the Vibe Hotel will not disappoint.


4. Surfers Royal Resort Gold Coast
9 Northcliffe Terrace, Surfers Paradise QLD 4217
Gold Coast, Australia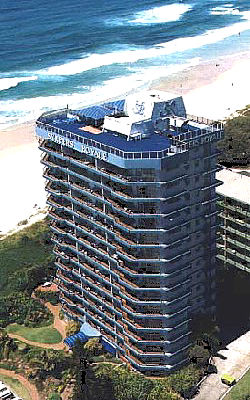 Surfers Royal is a 4 star hotel that offers guests the option between one and two bedroom apartments with a majestic view of the coastline. It is your dream beachfront holiday. The hotel offers many attractions:
• Organized activities
• BBQ area
• Half court tennis
• Secured parking
• Spa, sauna, indoor swimming pool, and sundeck
• Tour assistance
• Garden
Surfers Royale is also ideally located about a 5 minutes walk to Cavill Mall, which is the center of all that happens in Surfers Paradise. You will find tons of attractions there ranging from restaurant and shops to exciting nightlife and people.
5. Sofitel Hotel Gold Coast
81 Surf Parade, Broadbeach, QLD 4218
Gold Coast, Australia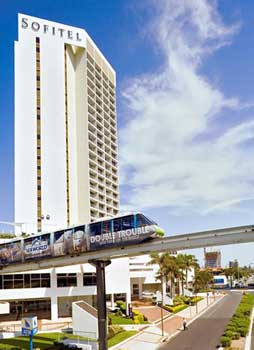 The Sofitel Gold Coast is a 5 star hotel with 295 hotel rooms and suites that offer modern furnishings with earthy themes, intended for optimal comfort and style. The hotel is known for its luxury and state of the art technology. Some of the standard things offered include:
• Flat screen LCD TV
• Digital telephones
• Occitane bathroom products
• Cotton bathrobes and bath towels
• Relaxing armchairs and large desk
The hotel's variety of different rooms ranging in style and size allows it to accommodate anyone's needs. The Sofitel's attention to detail and professional service makes it stand out from it competitors and offer you the best luxury accommodation available in Gold Coast.