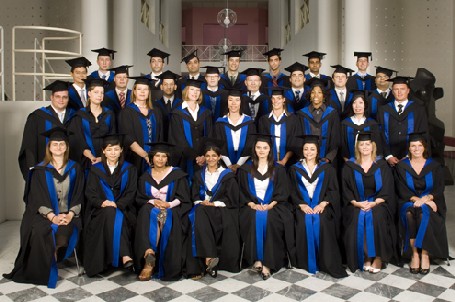 MBA in Australia
The business world is an increasingly global environment. As businesses continue to extend their reach overseas, business professionals with international connections and real world know how are in high demand. For professionals interested in pursuing an education to help them get ahead in this competitive workplace, it may be time to consider a MBA in Australia.
The land Down Under has much to offer students in all areas, which is why there were over 540,000 international students in Australia last year. Of that number, at least 182,000 were enrolled in higher education programs, which includes a MBA in Australia. The percentage for students enrolled in a MBA in Australia jumped by almost 50% from previous years. This rise in popularity can be directly traced to Australia's focused development of MBA programs with quality schools, top tier teachers, and increased funding.
Australian MBA programs reflect the best practices and most up to date theories on business. In addition to skilled professors and strong connections to thriving businesses in Australia, students who pursue a MBA in Australia have access to an engaging and relevant curriculum. Many schools also offer alternative measures for students to earn their MBA in Australia, including part time and full time options and remote learning opportunities. There are also numerous specializations available, featuring everything from finance to information technology.
Another powerful reason for international students to consider a MBA in Australia is the unique speed of the coursework. While many universities around the world offer various two year MBA programs, students who pursue a MBA in Australia can sometimes complete the coursework in as little as a year when attending school full time. This makes it easy to receive a degree quickly in order to move ahead in the workplace. It is also possible to spread the coursework out for up to five years for those students who wish to take classes part time while continuing to work in other capacities.
Many students also find that a MBA Australia degree is relatively cost effective. As the price of higher education skyrockets in other areas around the globe, students who pursue a MBA Australia degree can often find competitive prices. Most graduate level degrees in Australia cost anywhere from 12,000 to 18,000 a year in Australian dollars. However, since these programs can be finished quickly, the cost is kept especially affordable. There are also numerous scholarship opportunities available from individual schools and the Australian government. As another added benefit, all international students can receive health care coverage through their student visas while studying in Australia.
Though these are all compelling reasons to study business in Australia, one of the best reasons is Australia's unique economic landscape. Australia is intimately connected to the booming Asian markets, conducting much business with cutting edge Asian companies. Accordingly, the Australian economy is equally vibrant, offering students a chance to make important international connections that can serve as a gateway to the Asian market after graduation. Many students who complete a MBA in Australia have ready access to lucrative job opportunities both in Australia and around the world.
Clearly, studying for a MBA at an Australian university can not only be economical and efficient, but it can also give students the background and connections they need to advance a successful career in the business world. On top of all that, students who study in Australia also have the chance to experience all the culture and vibrancy that this country has to offer. All of this can help students not only become better business professionals but well rounded people in the workplace and at home.