Brisbane is the capital city of Queensland and has a population of around one and half million people. Below is five different hotels ranging in price, location, style, facilities, etc. We hope one of the below hotels meets your criteria in finding accommodation for your travels.

1. Watermark Hotel Brisbane – 4 Star
551 Wickham Terrace Spring Hill Brisbane QLD 4000
Brisbane City, Australia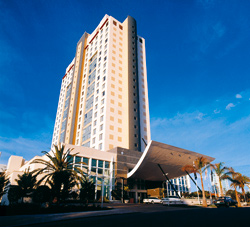 Watermark is located next to the old historic Spring Hill that features tropical lush green scenery. The hotel is surrounded by 15 hectares of tropical gardens along with close by shopping, dining, and entertainment. Also located 1km from the city centre and 15km from the Brisbane Airport. Watermark has 95 guestrooms that include large scenic balconies to capture the sights of Spring Hill and the Street Parklands.
Five Fifty One is Watermarks featured restaurant with a modern Australian cuisine. You can relax and sip on a cocktail while taking in the vibrant views of the parkland. Relax along side Watermarks pool deck or inside the bubbly spa. You can also stay fit by taking a scenic run on the Parkland track.

2. Brisbane Riverview Hotel- 5 star
Cnr Kingsford Smith Drive and Hunt St Hamilton Brisbane, QLD 4007
Brisbane, Australia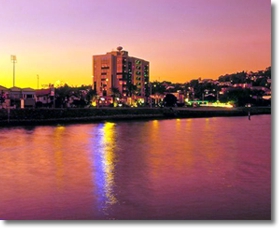 This 5 star luxury hotel overlooks the beautiful Brisbane River and has a unique prestigious atmosphere. The Brisbane Riverview has 90 luxury rooms and fully equipped suites along with two restaurants and bars, gorgeous pool, sauna, and romantic spa. This popular international hotel provides first class modern facilities along with amazing hotel service. The hotel is only 5 minutes to the City centre and takes 10 minutes to get to the Brisbane airport.

3. Royal Albert Hotel Brisbane- 4 star
Cnr Albert & Elizabeth Streets
Brisbane QLD 400, Australia
You will notice the royal décor right from the start when you open the large double doors to enter Royal Albert. Located in walking distance from the queen street mall and the Treasury Casino. Also close by is the beautiful Botanical Gardens and the scenic river walk leading to the South bank Parklands. This hotel is listed as a Heritage building as it is 140 years old. This royal heritage building was redeveloped about 5 year ago. They offer one and two luxury rooms that include a full kitchen. Some of the convenient hotel services include laundry service, babysitting, and valet parking.

4. Point Hotel Brisbane- 4 star
21 Lambert Street Kangaroo Point
Brisbane QLD 4169, Australia
Point Hotel is one of Brisbane newest contemporary hotels located next to the Story Bridge within the suburb of the exciting Kangaroo Point. This is a great central location surrounded by arts, entertainment, and fine cuisine. This is a great location for business travelers due to its central location. The Point hosts a variety of suit type of rooms to accommodate there local and international travelers. Point has a café bar that server's breakfast, lunch, and dinner. Point's guest can enjoy the heated swimming pool; play a friendly game of tennis, or stay fit in there gym.



5. Marriott Hotel Brisbane- 5 star
515 Queen Street Brisbane-city 4000 QLD
Brisbane, Australia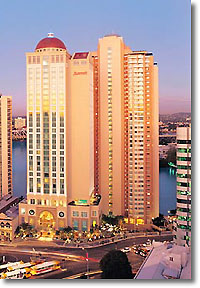 This 5 star popular hotel overlooks the Brisbane River. It is within walking distance to the financial district witch makes it perfect for business travelers. All the 267 large rooms offer scenic view of the Brisbane River. Petries Lobby Bar is a great place to grab a coffee, or cocktail. Petries Bistro offers an elegant indoor dinning setting. The Marriott is also known for their excellent guest services and customer service.


Accommodation in Australia
Students will find that there is a wide array of options for accommodation in Australia. Whether you prefer the luxury of a major hotel chain or the cost savings of an economic hostel, there are options available throughout the country that will perfectly suit your needs. Once you have determined your travel budget, the level of comfort and services you prefer and your destination, finding the right type of lodgings is simple and convenient.
Hostels

Hostels are an ideal option for most students. This affordable choice for accommodation in Australia allows you to travel solo or with friends while staying within even a very tight travel budget. There are hostels located throughout Australia, including some that cater to families. Be aware that some hostels have age limits and, if you plan to travel frequently, consider joining Hostelling International, which is the overall membership organizations for multiple Youth Hostel Associations and includes over 4,000 hostels around the world. Membership provides great discounts that make this option even more cost-effective.
Self-Catering Accommodation

When traveling solo or as a couple, self-catering accommodations might not be a good match for a student budget; however, if you are traveling with your family or with a group of friends, this can be a cost-effective choice that offers more privacy and comfort than other options. Self-catering houses and apartments come equipped with kitchen facilities and many have on-site laundry facilities as well. This allows you to save money by preparing meals, rather than dining out multiple times each day, and is ideal for longer stays away from home.
Fully-Catered Accommodation

Fully-catered apartments and vacation homes, also referred to as serviced apartments and homes, provide the same privacy and convenience of self-catering accommodations with the added benefit of receiving the same services you would receive in a hotel. These fully furnished lodgings have kitchens or kitchenettes, lounge areas and one or more bedrooms. Students can expect to pay a little more than they would for a hotel room in most cases.
Homestays and Farmstays

Some students opt for homestays throughout their studies in Australia; however, even those simply looking for accommodations for a short trip can benefit from this cost-effective option. Staying with an Australian family at their home or on their farm provides a different type of travel experience than that offered by conventional accommodation options, including living like a local during your travels and more fully immersing yourself in the culture. Homestays generally include at least some meals and can often be arranged through your school.
Hotels and Motels

Hotels and motels are popular options for those seeking accommodation in Australia. If you are the type of traveler who likes to know what you can expect in terms of accommodations and services, and who does not mind spending a bit more to ensure your comfort during your stay, then this may be the right option for you. Hotels and motels will cost more than hostels and homestays, but they also offer greater privacy and standardized services. If you plan to travel to one of Australia's more popular tourist destinations, be sure to reserve a room well in advance to ensure that you have a place to stay upon arrival.
Bed and Breakfasts

If you are looking for cozy, homey Australia accommodation, you may want to consider a bed and breakfast. This option is perfect for a romantic weekend getaway, or simply if you prefer enhanced comfort and the convenience of daily breakfast service. Travelers can expect to pay considerably more when staying in a bed and breakfast when compared to other options for accommodation in Australia; however, they can also expect greater comfort and luxury.
Camping

Camping if the most cost-effective way to travel through Australia and is perfect for those who appreciate sleeping under the stars and getting back to nature. A camping trip is a great way to get out of the city for a few days and recharge your batteries between tests and term papers. Of course, camping does not offer the luxuries of a hotel – or even a hostel – but it does incorporate a completely different experience into your travels. Students who do not own camping gear, or who could not bring it with them from home, can rent camping gear in many areas of Australia or can look online for inexpensive, used gear.
Choosing the right Australia accommodation for your travel needs largely depends on your budget and the level of comfort you prefer. If your travel dates or destination are flexible, you can find great last minute deals on hotel rooms and self-catering accommodations. Whether you choose to stay in a campground or a luxury resort, the most important thing to keep in mind is that taking the opportunity to travel while studying in Australia is an integral part of fully taking advantage of the educational opportunities available in this diverse country.